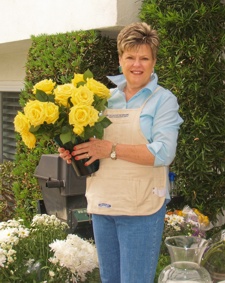 Our Founder
The Woman Behind Blossoms by Cherry
Cherry Henricks, owner of Blossoms by Cherry, has been delighting her clients with vibrant colors, imaginative floral arrangements and creative concepts since 2008.
A graduate of California State University Northridge (CSUN), Cherry built a career in interior design, ultimately becoming President of Two's Company Interiors, a model home design company for over 25 years. Seeking a career change she completed the professional floristry program at Pierce College while gaining practical experience working part-time for a retail florist as well as several independent florists. Since 2011, she has been selected as Best Florist by the readers of the Los Angeles Daily News, attesting to her many talents and strong background in design and company management.
Cherry's clients come from a variety of industries, including senior care facilities, community organizations, universities (she is the choice florist of CSUN), businesses and private customers.
She provides design and floral arrangements for parties, events, special occasions, sympathy and funerals.
Each floral arrangement is customized and incorporates her clients color palette, style or personal mementos. She can also coordinate events and provide turnkey holiday decorating services.
As a CSUN alumna and a Northridge business owner, she has been instrumental in forming the CSUN Networking Connection, a joint effort between the CSUN Foundation and the North Valley Regional Chamber of Commerce. Additionally, she serves on the Northridge Chamber's Board of Directors and is an officer on the CSUN Alumni Association Board of Directors.
Her passion for flowers is only matched by her passion for helping others. Luckily for Cherry, they both go hand in hand. Whether it's a celebration, condolence or just to brighten a room, Cherry brings much more than flowers to the table.